Welcome to your Dnister 
online
banking experience!
We've refreshed the content and navigation, as well as introducing a fresher and more dynamic design that will be easily viewed on any
device. The "news" section will keep you informed on what we're up to, new products and services, important notices, banking tips, industry information and more . . .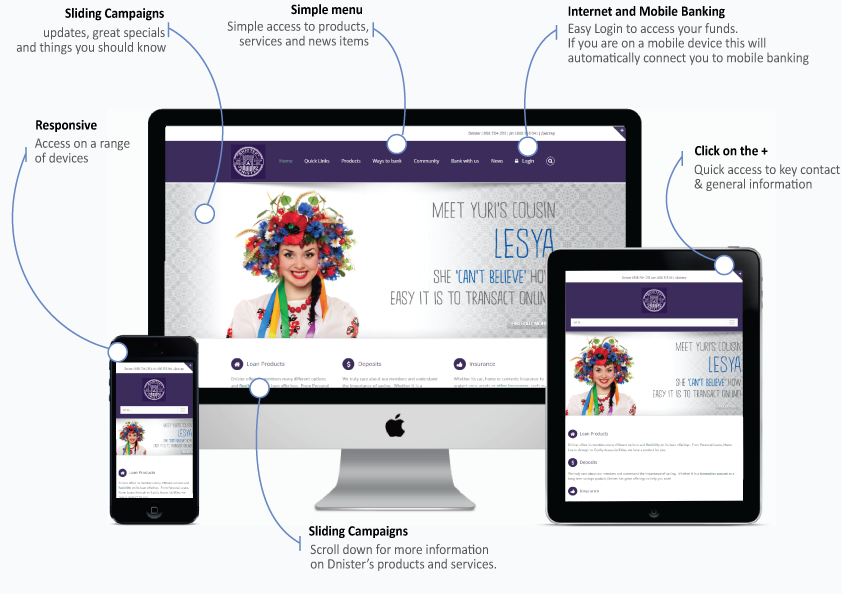 Dnister's Official App

 – Let's get started!
---
Mobile Banking is a service that allows you to access your accounts using your internet enabled smartphone. The screen layout and text size has been tailored for  
smartphones
to enable easier navigation –  no more pinching and stretching!
Mobile banking is available to all members who are registered for Internet Banking. You can access popular online banking functions from your smartphone wherever you are, whenever you want. Whether you're on a holiday, overseas, shopping or just out and about, our Mobile Banking offers great convenience.  Refer to your local carrier for respective data and roaming charges that may apply.
View account balances

View transaction history

View upcoming payments, transfers and schedule new ones*

Pay bills with BPAY®*

Find your nearest branch or ATM

Activate new cards and change your PIN

Easy PIN Access
* Only transfers to saved destinations can be completed through the Dnister App. New payees or billers need to be established via Online Banking, which needs to be accessed through your PC, to facilitate second authentication via secure SMS. Note that normal transfer limits apply.
Mobile Banking is available to everyone who is registered for Internet Banking. You don't need to complete any additional forms. Simply search for "Dnister" in the App Store (Apple devices) or the Google Play Store (Android devices) and install the App on to your device. When you open the App for the first time, you will need to register your device:
Enter your Member Number

Enter your current Internet Banking Password

Enter a name for your device – ie Yuri's iPhone

Set your new easy access 4 digit PIN and Touch ID*

Review and accept the terms and conditions of use

Enter the 6-digit code you have been sent via SMS

That's it!
*Touch ID is only for eligible Apple devices. Next time you return you will only require the PIN or Touch ID to access your accounts. It's that easy!
Business and community clients who currently use the business internet banking option that provides multiple signatory and batch options are not able to use Dnister's App. Dnister's official App is provided for single member use.
Members who are not registered for online banking need to register for this service. Once you have registered, you will be able to downloaded the App. To register, download and submit an 
application form
.   
The Mobile Banking service provides members with quick and easy access to your accounts on the go. You can view, pay and transfer to any previous payee or biller. For added security – second authentication by SMS via internet banking will be required to load any new payees or billers. We recommend that members also utilise their phone's lockout pin if using the mobile banking solution and to not use the same PIN for mobile banking. As always, never write down your PIN or Passwords!
That's ok! When you go to the side menu in the App, there is an option 'Forgot App PIN'. To reset your PIN you will need to Re-Register your Device by entering your Dnister Member Number and Password, Device Name and new App PIN.  
Would like to know more? Need help? Feel free to visit your local branch and have a chat to our Member Service Officers or 
contact us
 for any queries or assistance.