Foreign Exchange
international currency and more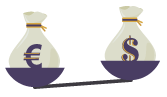 Planning to travel or send money overseas?
Dnister offers a selection of foreign exchange products – from currency exchange to money transfer.
 American Express – Foreign Exchange Services

Need foreign exchange? We've got you covered.
Dnister has partnered with American Express Foreign Exchange to offer you simple solutions to your foreign currency requirements. Whether you are going overseas for a shopping spree or sending money to a family member abroad for their birthday, we offer a range of secure and convenient options to suit your needs.
Sending money overseas
A Telegraphic Transfer (TT) allows you to electronically send funds directly into your beneficiaries account in a specified currency. TT's are the preferred method to make large value international payments as they are processed quickly, cost-effectively and securely in over 100 currencies.
To send a TT, you will need to contact your closest branch who will facilitate the payment for you.
You will be required to provide the following information in order to process with us:
Beneficiaries name and street address
Beneficiaries bank account details
Foreign Currency Bank Drafts, commonly called drafts or foreign currency cheques, are simply bank cheques made to a recipient who can deposit the cheque directly into their own account.
Drafts are an ideal payment method when you have small amounts to pay or you do not know the banking details of the person or beneficiary you need to send money to.
Drafts can be ordered at your nearest branch and are typically available within 48 hours.
We have the currency the locals prefer With over 60 currencies available we are confident we can provide you with the foreign cash you require, no matter where in the world you are going.
Order at your convenience online or place an order at any of our branches. Your foreign cash will be available for collection within 48 hours from any one of our branches or an American Express Foreign Exchange office of your choice.
Claim your local currency at your convenience Conveniently convert your foreign currency into Australian Dollars for your local spending requirements.
Should you have excess foreign cash, unused Travellers Cheques or receive a foreign currency cheque or draft, you are able to exchange these for Australian Dollars through our encashment service.
Moneygram – Instant money transfer

Send money in minutes* with Moneygram
Planning to send money to family and friends overseas?
Dnister has partnered with MoneyGram to provide an easy, secure and quick way to send or receive money overseas. This online service allows you to send and receive money within minutes. Because you are sending cash anyone who is a Dnister or non Dnister member can use this service.
Sending money in four easy steps
We make it easy to transfer money quickly and reliably. Send money overseas from over 334,000 MoneyGram locations worldwide.
Use the cost estimator to calculate how much money you want to send from the local to the destination currency.
Step 2  –  Visit a Dnister branch
Bring one or more forms of government issued identification, such as:
Passport
Driver's license
National identity card
Government issued ID
Step 3  –  Complete a simple money transfer form
You'll receive a receipt and reference number for the transaction. Save both for your records and share with the person receiving the money transfer.
Step 4  –  Contact the person receiving your money transfer
Let the person to whom you are sending money know the transfer has been sent and provide the Reference Number.
Have more questions about how to send money?
Visit the Moneygram FAQ and help website.
Receiving money in three easy steps
MoneyGram makes receiving money transfers easy and convenient through our network of more than 334,000 agent locations around the world. Plus, with our same day service, your money can arrive as soon as 10 minutes*.
Step 1 – Request the reference number
The person sending you money will receive a reference number when the transaction is completed. Ask for the reference number to make it easier and faster to pick up your money.
Step 2  -Visit your nearest MoneyGram location
Take your reference number and one or more forms government issued identification to pick up your money**.  Forms of ID include:
Passport
Driver's license
National identity card
Government issued ID
Step 3 – Complete the 'receive' form
A receive form is available at your agent location. The form is required to pick up transferred money.
Complete all fields and:
Include the reference number
Show your identification
Once verified, you'll receive your money (usually your local currency).
Have more questions about how to receive money?
Visit the Moneygram FAQ and help website.
International Funds Transfer
 | 
International Draft
Not sure which product is right for you?
Speak to our Member Services Team.
Things you should know
Telegraphic Transfers – For further information, please refer to the relevant (Telegraphic Transfers and Forward Exchange Contracts) Product Disclosure Statement (PDS). The information contained in this document has been prepared without taking into account your objectives, financial situation or needs. You should read the PDS and consider the appropriateness of International Payments in relation to your individual requirements. International Payments are arranged through American Express International, Inc. (ABN 15 000 618 208, AFSL No. 237996). Incorporated with limited liability in Delaware, USA. ® Registered trademark of American Express Company.
American Express Global Travel Card –  ** You will not be able to use your American Express GlobalTravel Card in Australia and certain other countries where Australian or United States sanctions apply. #While Global Assist™ coordination and assistance services are complimentary benefits from American Express; Cardmembers are responsible for the costs charged by third-party service providers. Global Assist services are not meant to replace any travel insurance. A Disclosure Document will be provided where and American Express GlobalTravel Cards are sold and are available upon request. You should request an American Express Financial Services Guide and consider the appropriateness of American Express GlobalTravel Cards in relation to your individual requirements. American Express GlobalTravel Card is issued by American Express Travel Related Services Company, Inc. Incorporated with limited liability in New York , USA. ® Registered trademark of American Express Company.
Moneygram – *Subject to agent hours of operation, public holidays, and local laws and regulations ©MoneyGram
General Advice Warning:
 

In providing you with this information, you should consider the appropriateness of this product or service with regard to your particular financial situation and needs. We advise that you carefully read our Product Disclosure Statement and associated Disclosure Documents before acquiring a product.