MYOB
Banklink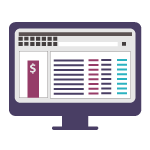 MYOB online accounting makes your business life seriously easier.
Not all small businesses are the same. That's why MYOB offers choice – so you can find a solution that fits around your business life.
All MYOB accounting solutions are designed to give you easier access to more accurate bank transaction data, by offering you automatic bank transaction feeds that are accurate, reliable and secure. According to the latest MYOB research, business owners now spend 42% less time on bookkeeping thanks to our reliable bank feeds, saving an average of 10 hours per month.

Why MYOB bank feeds are seriously better
MYOB receive data through direct contractual agreements with each of the 120+ financial institutions that they partner with. MYOB protects clients' bank data with the same security standards as the major credit card companies.

MYOB employ rigorous checks and processes to all of the data received to ensure nothing is missed or duplicated. If errors are detected, MYOB work with the financial institution to fix them before they become an issue for their clients.

MYOB have efficient processes in place to ensure clients can trust everything they receive. Each one of MYOB clients knows that bank transaction data delivered to their software or accountant will be correct and on time – whether they need it every day, every week or every month.
Toolkit
For Small Business Owners – Contact your accountant or visit MYOB website to learn more about MYOB's range of accounting solutions for your business.
For Accountants – Contact MYOB BankLink ph 1800 123 242 | BankLink website
Like to know more?