Your new
Digital Banking

experience!

We've refreshed the content and navigation, as well as introduced a fresh and more dynamic design that is easily viewed on any device.

Our full-featured digital banking experience includes a mobile app that lets you view your account balance at a glance, quickly pay bills, transfer money between your Dnister accounts and change your visa or cuecard PIN!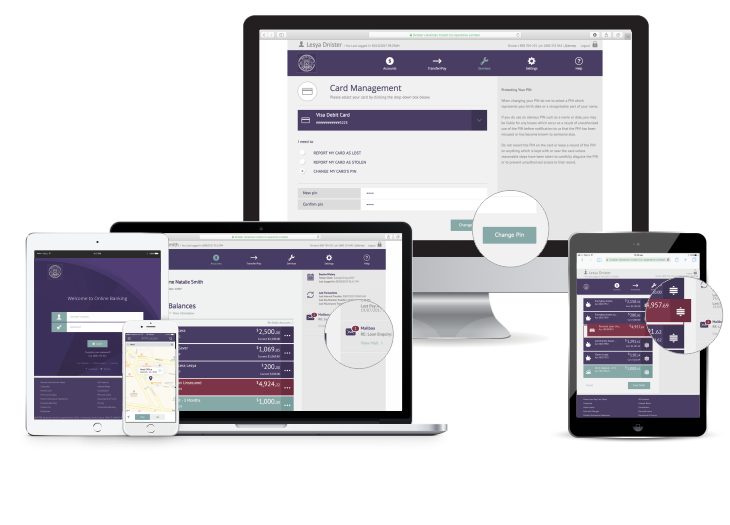 Online Banking
Online Banking allows you to manage your funds securely at your convenience.
From moving money internally between your own accounts, paying another member or someone externally, or paying bills, digital banking is another way to take control of your finances.
The new look and feel of Dnister's digital banking includes new functionalities, allowing you to do more.  Card Management allows you to manage your Visa and Cuecard PIN from the comfort of your own home. You can also activate your Visa Debit card online.
Registering for Secure SMS
Dnister provides members an additional security feature for online banking called Secure SMS.
'Secure SMS' uses the safety of your mobile phone or landline to increase your online security.
A 6 digit number is sent to your nominated mobile phone or landline via 'Secure SMS' which is used as your second authentication to carry out certain transactions, that require a higher level of security – such as external transfers.
This service is also designed to protect other important areas, such as your personal details, and the change of periodic payments, batch transfers (for Business Banking), and BPAY details.
Registration
Upon your first login into your internet banking account, you will need to confirm and register your nominated phone numbers on our secure system. Upon registration, a one off 6 digit number will be sent to your nominated phone number, which will need to be entered into our system.
Once you have entered this number, the service will be activated.
Customise – saved favourites
Once you have  signed up, you will be able to continue transacting with ease through your saved, and previously set up, transfer accounts. This will be a list of destinations that you commonly transfer money to externally, internally, and via BPAY.
By placing destinations on this list, you are not required to be notified via SMS whenever money is transferred to and from your accounts. This will save you receiving any unnecessary messages on your phone.
Changing your Details
If at any point you would like to change the settings you have created, you have the option to change your personal information, saved favourites, and other important details.
Please note, the phone numbers that will appear on your internet banking are the ones you have provided Dnister with your member account. If these details are incorrect, or there are no numbers on the system, you will need to contact our member services officers and have the information updated.
If at any point you need more information, or you need help understanding the service, please contact one of our member service officers. 
Business Banking
Manage your business accounts online with Business Banking.
Dnister provides a tailored functionality for Business Banking called – Batch Transfers.
This features allows you to process a combination of transactions  at the one time with multiple signatories on the business accounts.
Where a batch is created on an account which requires more than one signatory, the batch must be approved by the required number of signatories before it can be processed.
For example a batch can be created by one signatory, but it will stay in a pending status until the second signatory logs in and applies the necessary authorisation.
This makes for a more secure mode of banking for any business.
The different level of access which can be set for each signatory is as follows:
Batch View Only – allows a signatory to view a batch only
Create & Update Only – allows for a signatory to create and update a batch but not approve or submit for processing
Create, Update & Approve – allows a signatory to create, update and approve a batch but not submit for processing
Full Access – allows a signatory to create, update, approve and submit a batch for processing
The batch functionality also allows members to upload and process a 'cemtex' or direct entry batch which has been created in a member's accounting package (eg. MYOB, Xero or Quicken). This functionality is most ideal for accounts owned by businesses, groups, schools or organisations.
To setup Business Banking or find out more, contact our Member Services Team.
General Advice Warning: In providing you with this information, you should consider the appropriateness of this product or service with regard to your particular financial situation and needs. We advise that you carefully read our Product Disclosure Statement and associated Disclosure Documents before acquiring a product.